TrapezePro Instructors
Marek Kaszuba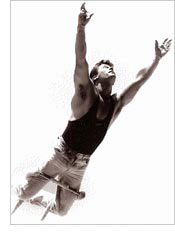 Owner, Catcher, Instructor
Raised & educated in Canada, Marek has performed and taught Circus skills (specializing in Flying Trapeze) internationally for over 18 years. His experiences in Canada, the Caribbean, Europe, Japan, Mexico and the USA has enabled him to teach and develop Circus programs for numerous schools, camps and other community organizations. Many students have continued on to professional careers with circuses such as Cirque Du Soleil and Ringling Bros. His wide variety of interests and endeavours has made him uniquely qualified to share the passion of Circus Arts to students of all ages and backgrounds. He has been actively involved with the education of children for over 25 years. Marek is a certified Gymnastics and Trampoline instructor with the Canadian National Coaching Certification Program (NCCP), he is also a former member of the Canadian Ski Patrol.
Darrel Morrow
Instructor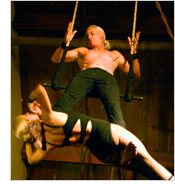 Darrel tried the Flying Trapeze for the first time in 2000 and was immediately hooked. He has been teaching Flying Trapeze since 2002, working with students from beginners to advanced. His performance experience on the Flying Trapeze gives him insight into what students are going through. With many years experience in meditation, he brings a Zen approach to working and teaching trapeze. He loves the challenge of getting a student to push safely past their comfort zone and on to a higher level of flying. Being a flyer, he knows the importance of giving students as much freedom as they can safely manage. You can also see Darrel and his partner Lizette perform on the Double Trapeze as a Duet at various venues in the bay area.
A. Hope Hackett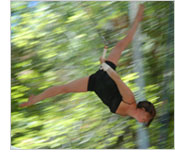 Instructor
Hope discovered the joy of rebounding at a very young age. Her misguided youth was spent engaged in competitive USGF gymnastics and it wasn't until she turned 30 that she found the creative freedom of the Circus Arts. She began practicing Flying Trapeze under Marek and Darrel's instruction in 2004 and has been helping teach classes since 2006. Her enthusiasm for the Flying Trapeze knows no bounds and she takes great pleasure in encouraging the success of first-time and beginning flyers.