Circus Arts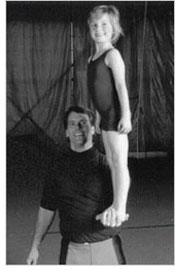 While the Flying Trapeze is the "high" profile attraction for most students, the magical world of the Circus has many layers to appeal to practically everyone. Circus Arts has become the fitness and recreation choice of modern times. Circus Arts offers a place for all body types, characters and skills. Circus Arts is more than a performance discipline, it is athletic, playful, creative, dramatic, practical and can be individual as well as group oriented. It is a non competitive activity that creates an awareness of body, mind, as well as responsibility and confidence that may spread to other aspects of life.
Aerial Arts such as Trapeze, Double Trapeze, Swinging Trapeze, Aerial Silks, Spanish Web and Aerial Hoop profess to your inner performer to soar amongst the clouds.
Russian Bar, Trampoline, Mini Trampoline and Aerial Bungee will propel you to new heights. Juggling, Stilt Walking, Unicycling, Hand Balancing Acrobatics and Tumbling will allow you to prodigiously remain "grounded".
TrapezePro... instructors can help you in these and many other disciplines in Circus Arts. Kindly contact us to discuss your Center Ring desires and step right up and join the circus like you always wanted to...