Map & Directions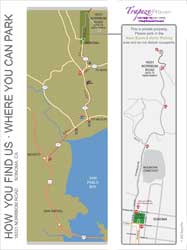 The trapeze rig is located at: 16331 Norrbom Road
Sonoma, CA We are at Keen Ranch in the hills outside the town of Sonoma, approximately 10 minutes driving time from the downtown square.

Download & Print map
Directions from San Francisco:
Take Hwy. 101 North to Hwy. 37 Vallejo/Napa.
Follow Hwy. 37 approximately 6.9 miles to Hwy. 121. The exit will be on your left.
Stay on 121 for 7.25 miles. The road will curve right to join Hwy 12 at about 6.5 miles, and then Hwy 12 will exit to the left about three-quarters of a mile later. Take Hwy 12 to Sonoma.
Follow Hwy 12 (Broadway) for 3.7 miles until it dead ends at W. Napa Street in Sonoma.
Turn left on W. Napa, go one block, then turn right on First Street West. As First Street winds up into the hills, it will become Norrbom Road.
Stay on First Street/Norrbom Road for approximately 3.2 miles until you get to #16331 Norrbom Road. Ignore the sign that says "Not a through road."
Turn left into the property and follow the long driveway to the area marked "Keen Ranch & Visitor Parking." A footpath leads from the parking lot to the trapeze rig.
The road is very narrow and winding. Be careful driving, and please don't speed. It is difficult to see the address, but it is on the gate on the left side of the road. Look for the "Keen" sign on the gate.
Note: This is private property. Please park only in designated area and do not disturb occupants.
We have found that GPS and Google maps are not always accurate in the rural areas outside the town of Sonoma. Please be aware of this if relying on these services to find your way to the rig.